single off the eMC brand new EP, The 
Turning Point. 
Shout out to Masta Ace, Stricklin, Punchline, and Wordsworth. This record came out dope. As you can probably guess, there's a clip of Dave Chappelle yelling "Charlie Murphy!" from the famous Chappelle Show skit. 
All of you 14KT beat tape heads will recognize this instrumental.
Shout out to the one woman force Maria (BlockRockinBeats) - whom I first met in Germany in 2009, when she was helping tour manage and promote for the A-Side Worldwide European Tour I was a part of with my family Now On, Mayer Hawthorne, and Buff1. She is the reason all this was possible. Thank you Maria!
So in 2013, Maria was tour manager for eMC and Masta Ace while they were in Germany. While Maria would help transport the eMC crew around town, she would play instrumentals in the tour van. 
Masta Ace/eMC: "Ayo, who's beat are we listening to now?" 
Maria: 14KT. 
Masta Ace/eMC: Okay, word. dope. 
*another beat plays* 
Masta Ace/eMC: "Ayo, who produced this joint we're listening to now??" 
Maria: 14KT! 
After the second or third time asking Maria, the beat that would inspire Masta Ace to reach out to me was "3 Blind Mice". Maria connected us over email. Masta Ace wanted to use it on the upcoming EMC project. When he first found out that I already released the beat, he was disappointed, but due to the 14KillaTape project not really being widely circulated, he still wanted to rock over beat.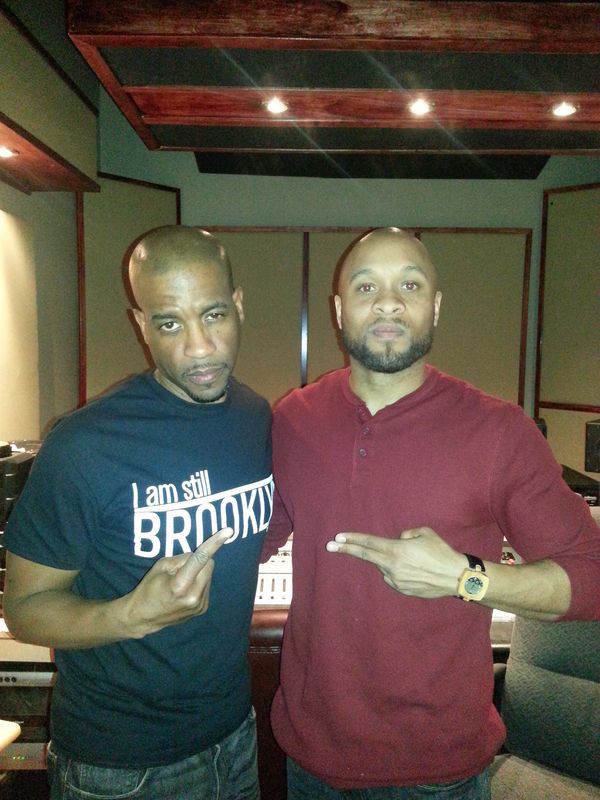 In 2014, I took a trip to NYC where I got to finally connect and meet Masta Ace in the studio. There I got to hear a mix of the song and Masta Ace gave me a first look at the "Charly Murphie" video.
I was a fan of Masta Ace when I was young. The first time I heard him rhyme was on a song called "The Symphony" by Marley Marl. The song also featured Kool G. Rap, Craig G, and Big Daddy Kane - They were known as the Juice Crew.   I used to play the Sittin On Chrome album a lot. Around that time, I active with writing rhymes and making beats. I was just learning how to drive a car too. I saved up to buy a new detachable car stereo and some new car speakers just from wanting to hear the bass bang from "Born To Roll", "Terror", "INC Ride" and "Sitting On Chrome" in the ride. 
From 99' - 04', my group Athletic Mic League performed often. We mostly rocked at local venues, but we also would drive out to Chicago, Wisconsin, Minnesota, and Ohio to perform at bars and on college campuses. We had a song called "Got'em Sayin " featuring our sister Invincible that we loved to perform. DJ Haircut would cut in Masta Ace's "Born To Roll " instrumental for the beginning of my verse. To pay homage to Ace, I would start my verse quoting lines from his third verse from the song:
"Black boy Black boy
turn that s#!t down
You know that America
don't wanna hear the sound
of the sub woof
tweeters and amplifiers
crying freedom
trying to make me
turn down the volume
when I see' em!! " 
One thing I learned about creating music - You never know where it will travel once you released it into the world. I created "3 Blind Mice" in 2007. I was working out of a small bedroom studio in Ypsilanti, Michigan. At the time, I was working on beats for Buff1's There's Only One album, my first instrumental album, and I was secretly working on a solo rap album. This was one of the beats that was on my list to write to. I had a concept that was inspired by Stephen's King IT - I was a fan since I first caught the TV movie in 1990. Hence the creepy children's nursery rhyme music used in the beginning of the track. After sitting on that concept for 4 years, I decided to put the beat on the 14KillaTape, so ya'll could have it.
That beat made it from Ypsilanti to Masta Ace's ears in Germany.
Then into a official single for an album release.
Then into DJ Premier's hands, cutting the joint live on his satellite radio show when eMc were doing promo runs for the album. Wow...
Wait. Wait. This SAME beat actually traveled and found it's way to the ears of comedian Charlie Murphy (RIP). He was the older brother of actor and comedian Eddie Murphy. I bugged out when I heard that Charlie Murphy loved this record so much that he called it "Hardbody" and used it as the introduction music to his live stand up comedy shows at the time.
Man, listen to Masta Ace talk about it all when he met Charlie Murphy.
You already know I had to screenshot that young Charlie Murphy's tweet when I first saw it. That's legendary for me.
It's still amazing to me how far music can travel when you just let it go and share it.