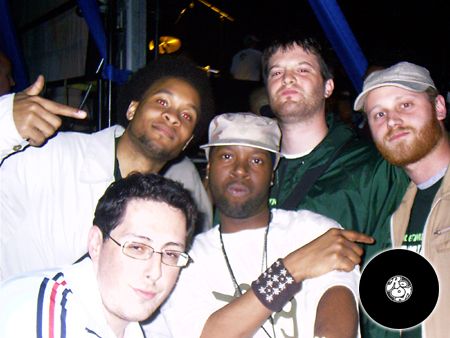 (l to r : 14KT, ?, J Dilla, DJ Haircut (Mayer Hawthorne), Michael Einhorn)
Happy Dilla Day to one of the illest to do it. R.I.P James Yancey a.k.a J Dilla.
This photo was the first time I met Dilla and last time I saw him in Detroit. It was 2004. One of the best days of my life.
Jaylib (Madlib + J Dilla) performed at the DEMF (now known as "The Movement Festival") at Hart Plaza.
My crew Athletic Mic League were invited to perform at the festival that year as well, so we had passes to be able to access the backstages. After the Jaylib show, a few of us in the crew wanted to go back stage to meet Madlib and Dilla. Meeting both of them together was dope. Madlib was a little quiet, but he was real cool. Armed with our new album Jungle Gym Jungle in hand, DJ Haircut and I walked up to Dilla to finally meet a hometown legend to us. We introduced ourselves and told him how much we appreciated and love his music. I remember he told us thank you! Motioning his hand over his heart and smiling. Real humble guy. Haircut handed Dilla our AML album as we both told him about our crew and he ever had a chance, to check out some our music. As we gave him the CD, he started looking at the artwork and reading the back credits while we were talking to him. In that moment, something clicked with Dilla and he replied, "Yoo! AML. Word! My mans was telling me about this album the other day! ". We were excited that Dilla even heard of our crew before. Years later, Yassir, my crew AML's old manager, told us that it was T3 who told Dilla to listen to our music. We thanked Dilla and asked if we could take a photo with him. This photo was taken by my mans Kelly "K-Fresh" Frazier, hence the logo on the right side of the photo. It's the logo from his Renaissance Soul Detroit website he ran back then.
Classic moment for me!
That year I also got to share the stage Carl Craig's Detroit Experiment since myself and Buff1 were featured on a song with our sister Invincible called "The Way We Make Music " produced by Karriem Riggins.