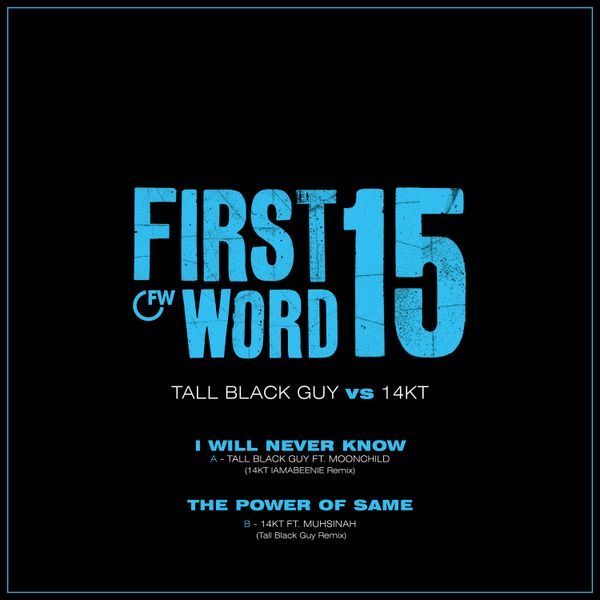 Listen: 14KT "The Power of Same" ft. Muhsinah (Tall Black Guy Remix) 
Listen: Tall Black Guy  "I Will Never Know" ft. Moonchild (14KT IAMABEENIE Remix)
First Word Records celebrates their 15th Anniversary continuing it's series of special collaborative releases with an absolutely firing double-header from 
14KT and Tall Black Guy!
On this limited 7" vinyl, the two renowned US beat-makers revisit two of their previous First Word singles, turning out flips of each other's tracks, also featuring a multitude of talent, in the form of Moonchild, Muhsinah, Stro Elliot and James Poyser of The Roots. 
Following 14KT's jazz - influenced project IAMABEENIE: For My Sanity, here KT flips TBG and Moonchild's collab, "I Will Never Know"- originally from Tall Black Guy's 2017 sophomore album Let's Take A Trip. 
The original neo-soul feel is transformed into a deliciously epic latin affair, drenched with deep Brazilian vibes throughout - this is one to draw for at those steamy get-downs; a slinky slab of dancefloor fire. 
Tall Black Guy returns to First Word for the first time in a minute, and takes on the Muhsinah-lead joint "The Power Of Same", the lead single from 14KT's 2019 acclaimed album, 'For My Sanity'. As to be expected, TBG delivers his unmistakable blend of dope dubbed-out spacey soul and boom bap kicks & snares, complete with guitar licks from Stro Elliot, and keys from James Poyser. 
Two of the dopest producers in the game, this one is completely 1000% essential. 
Purchase : Limited 7" 14KT vs TBG vinyl now!