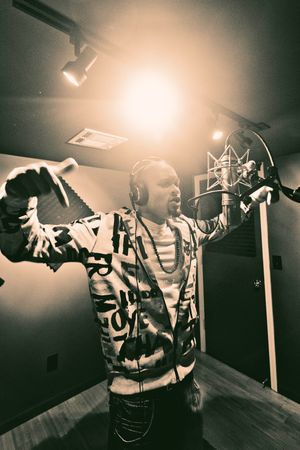 "You were taught to work hard
and success was in the pocket
but not that
you could still work hard
and not get
clocks tick
time and money
run aquatic
through the hands
profit
one day you don't
one day you got it
in this world
you get nickel and dimed
out your two cents
history'll blue pencil the lines
out your footprints
i'm paint a picture
of this concept
then ill sit
back and let ya'll watch it
pop s#i!
gossip
alright okay
let's say
you drop a project
they hear some dopeness on it
and feel they gotta rock it
of course the modern logic
google typing to find that
zip file first
not even tryna cop it
they got the mixtape
they need to drop quick
and get their s#it straight
get their flow bubblin'
now here comes the offers
with keywords like
"free" and "no budget"
then those artists turn around
and sell the truth
to your public
for $9.99
and oh
you'll hear them rhyme
something about gettin' cash
and how much they're a fool with it!
might even give you credit
like you was cool with it
like you had something to do with it
but guess who didn't??
(BOOM)
they just tryna shine 
just like you
even if they nickel and dime
your shine too
the spirit told me
peep it
keep your eyes on the greater purpose
God'll use your craft
to show the weight 
of what your worth is
then take that change
out your pocket
throw it up on 
the countertop quick
look them niggas
in their eye sockets
five and ten
tell them niggas count it "
-14KT
14KT "Five & Ten"