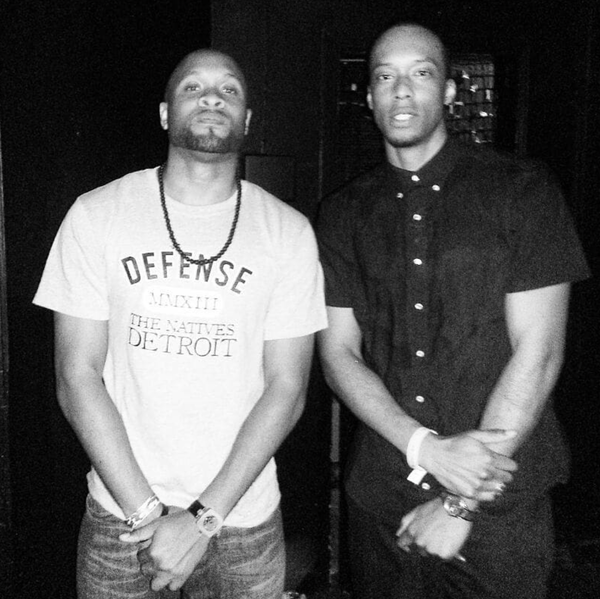 This guy has been keeping me on my toes with the beats since I first met him back in like 03-04'. God definitely allowed us to cross paths in life for a reason. Makes sense his birthday falls on a 14. 
I met Black when he was part of a duo production team called BR Gunna with producer Young RJ. Young RJ is the son of RJ Rice of mid-80s R&B/Soul group, RJ's latest Arrival. RJ Rice owned Barak Records, an independent label based in Detroit at the time - which was famously known as the home of classic Detroit Hip Hop group Slum Village and emcee Phat Kat.
In 2004, my group Athletic Mic League released an album with Barak Records called Jungle Gym Jungle. From working out of the same studio as Slum Village (consisting of T3, Baatin, Elzhi at the time), Phat Kat, and BR Gunna, I would always cross paths with Black. At the time, Black was making his name on the beats, but wasn't really known for rapping on the mic. I remember sometimes I would show up to the studio with a handheld camcorder and one time, I caught Black in between sessions and put the camera on him. I remember asking him to tell the camera who he was and what he did. Real calm and chill, He said his name and repped for BR Gunna. Then Black went on to let the camera know one of his future goals was to come up and take over this whole rap s#it with the beats! I'm mad because I can't find that footage anywhere, but I'll never forget that moment. I believed him. Although I made beats too and probably should have felt a certain way when I heard him say that, I didn't take that as a threat at all. What I heard was a confident young cat from the east side of Detroit talking that talk. Ever since that day, I kept checking for whatever beats he dropped.
Long story short  - A year later pretty much all of the artists ended up leaving Barak Records to focus on their own respective careers. I think my brotha Phat Kat released a song speaking on that a little. That's when I started seeing Black Milk rapping and performing more - especially when he dropped his debut solo album Sounds of the City in '05.
Later on in life, we finally connected on a joint called "Black & Gold", off 14KT's Nowalataz album. There was a beat I heard off one of his beat tapes. It was one of those times where the beat was giving me the words. I thought of that first time I met Black and what he said to the camera. I wrote the verses about him and I being kings with the beats and taking over. I remember I wanted to get the song done before I even hit him up about it, so I wrote and recorded the verses and sent it to him. He told me he thought it was dope, but he lost the beat. I didn't trip though. I just arranged/structured the song and added some bass to it. Black was cool with it! 
"Black and Gold the wedding color scheme of a rap lover's dream
means 14 and Black something key to classic shit
somewhat null and V(oid)
Your speakers now running free
Hip hop sighed and felt a sudden ease
when it summoned we
WE!"

Today I gotta say Happy Birthday to the brotha Black Milk! One of the best to do it from Michigan with the beats, rhymes, and on the stage. Appreciate you and love you bro!
1