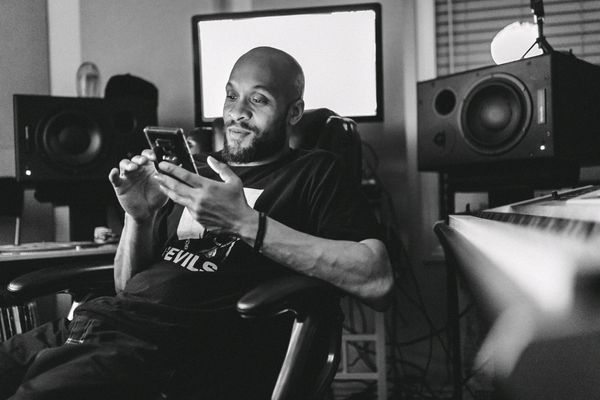 Photo : Trilogybeats

"I heard that 
what you live by 
you die by 
in conversations 
so don't be surprised 
if I die 
from heart complications
Been a long walk since 
cutting and pasting 
generated tones to 
owning P - Basses
Watching pops 
rock them cream Asics 
no wait 
they was 
Ellesses 
unaware of what these memories 
would teach me 
I was 14 
when I asked the Lord 
to keep me 
God replied 
setting music 
by my side 
and my enemies 
beneath me 
(Word) 
looking at'em 
like I'm sitting 
in the cheap seats 
(Hiiigh) 
Muhammad Ali 
vs Cleveland 
Neil Leifer's eye 
it don't matter 
hype is limited 
in these streets 
(byyyyyy) 
a landslide 
On this side 
just try 
swing batter 
nothing but a fish fry 
for this guy 
dream shattered 
You see all them styles out there? 
many were stolen bro 
I hold the only one 
that's Karat Golden though
Can you please hand me 
that sceptor 
and my golden robe? 
Alexia play 
"Soul II Stro"!
That's how you know 
we made it 
even all my homies 
chops can't be faded 
I can't explain it 
I know, I know 
it's complicated" 
-14KT 
Athletic Mic League "Complications"