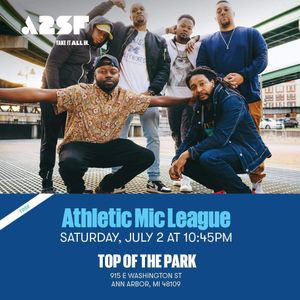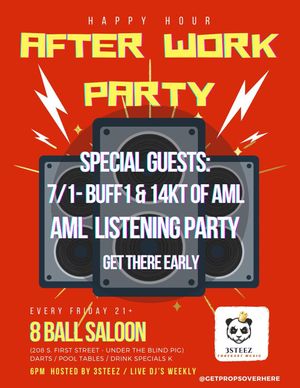 𝕋𝕙𝕖 𝔸𝕄𝕃 𝔽𝕒𝕞𝕚𝕝𝕪 ℝ𝕖𝕦𝕟𝕚𝕠𝕟 
ᴄᴇʟᴇʙʀᴀᴛᴇ ᴀ ʀᴇᴜɴɪᴏɴ ғᴏʀ ᴛʜᴇ ᴀɢᴇs! 👑 
𝐀𝐭𝐡𝐥𝐞𝐭𝐢𝐜 𝐌𝐢𝐜 𝐋𝐞𝐚𝐠𝐮𝐞 𝐏𝐫𝐞𝐬𝐞𝐧𝐭𝐬‌: 
The 1st Annual "𝔸𝕄𝕃 𝔽𝕒𝕞𝕚𝕝𝕪 ℝ𝕖𝕦𝕟𝕚𝕠𝕟" Weekend!  
𝕁𝕦𝕝𝕪 𝟙𝕤𝕥 - The Mic League Kings take over the 
 "After Work Party" at 8ball in Ann Arbor!  
Hosted by 3Steez, wsg Jamall J. Bufford & 14KT 
 - Doors at 6pm / 21+ / No Cover 
- 𝘍𝘦𝘢𝘵𝘶𝘳𝘪𝘯𝘨 𝘢 𝘴𝘱𝘦𝘤𝘪𝘢𝘭 𝘓𝘪𝘴𝘵𝘦𝘯𝘪𝘯𝘨 𝘗𝘢𝘳𝘵𝘺 𝘧𝘰𝘳 𝘰𝘶𝘳 𝘚𝘰𝘰𝘯 𝘵𝘰 𝘤𝘰𝘮𝘦 𝘢𝘭𝘣𝘶𝘮 "𝘗𝘭𝘢𝘺𝘨𝘳𝘰𝘶𝘯𝘥 𝘓𝘦𝘨𝘦𝘯𝘥𝘴 𝘝𝘰𝘭. 2"  𝘨𝘦𝘵 𝘵𝘩𝘦𝘳𝘦 𝘦𝘢𝘳𝘭𝘺 
𝕁𝕦𝕝𝕪 𝟚𝕟𝕕 - Ann Arbor Summerfest Top of the Park @10:45pm. Our first show back together to celebrate the 20- year Anniversary of our debut album "Sweats & Kicks"  
- you don't wanna miss this! 
- 𝘈𝘧𝘵𝘦𝘳 𝘵𝘩𝘦 𝘴𝘩𝘰𝘸 𝘤𝘰𝘮𝘦𝘴 𝘵𝘩𝘦 𝘈𝘧𝘵𝘦𝘳 𝘗𝘢𝘳𝘵𝘺 𝘢𝘵 @nectonightclub 𝘍𝘳𝘦𝘲𝘶𝘦𝘯𝘤𝘺 𝘚𝘢𝘵𝘶𝘳𝘥𝘢𝘺𝘴, 𝘸/ 𝘋𝘑'𝘚 De'Andre Nixon & @yoda4jedi  𝘩𝘰𝘴𝘵𝘦𝘥 3Steez 𝘰𝘧 𝘈𝘔𝘓, 18+ 𝘋𝘰𝘰𝘳𝘴 𝘢𝘵 9𝘱𝘮/ 𝘓𝘢𝘥𝘪𝘦𝘴 𝘧𝘳𝘦𝘦 𝘶𝘯𝘵𝘪𝘭 10𝘱𝘮 
𝕁𝕦𝕝𝕪 𝟛𝕣𝕕 - AML Brunch @ Homes Campus  
A Framily get together from 3-5pm 
All our welcomed but VIP Room is Invite Only 
To keep up with The League : www.MicLeagueKings.com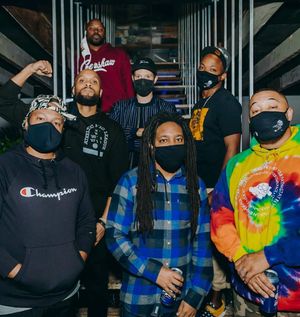 Our last album, Playground Legends Vol. 1 available now with Vol. 2 on the way soon.